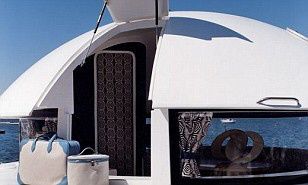 Straight out of a James Bond film, Pierre Cardin's space-age floating pod is St Tropez's coolest pad

This summer, St Tropez will see thousands of floating gin palaces moored along its shores as the rich, famous and a whole host of assorted hangerson sail into town.
However, for all their mod cons, the big, brash boats belonging to the P Diddys and the Roman Abramovichs of this world have nothing on Pierre Cardin's place. Like a cross between a lily pad and a flying saucer, the Anthenea bobs gently in the sea, off the coast of the famous French port.
If his domed aqua studio home is reminiscent of a James Bond film, it's no coincidence. The Anthenea, derived from the Greek word for blossom, was inspired by the final scene of The Spy Who Loved Me.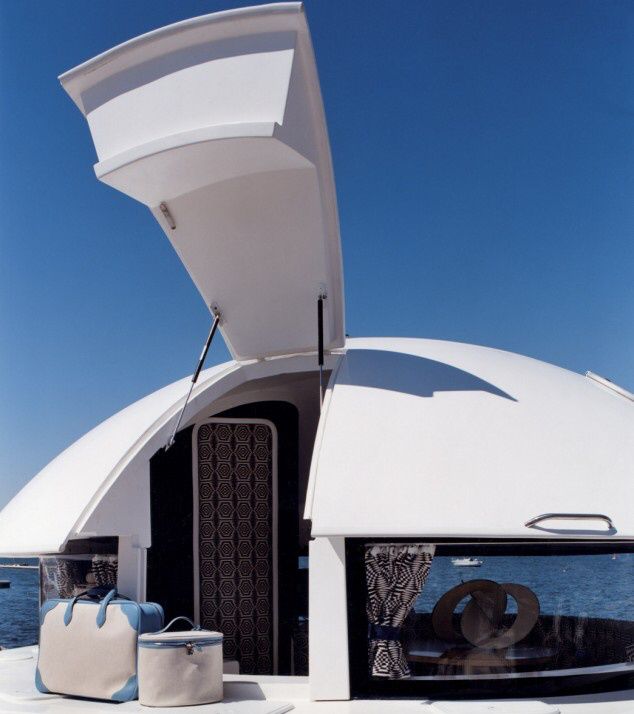 In the film, Bond escapes with his lover in a sea capsule. The revolutionary real-life home this scene spawned is the brainwave of French architect Jean-Michel Ducancelle.

The Anthenea measures just 4.6m in diameter and is made from fibreglass. A hydraulic jack opens the main door, but one of the most striking features is the glass bottom, which allows you to admire marine life close-up.
'It's very relaxing,' says Ducancelle. 'You feel like you're actually floating in the water. It's also more stable than a boat: it can resist a cyclone.'
Ducancelle's aim is to create floating holiday resorts, consisting of several capsules linked by bridges. While Cardin's version is relatively modest, other higher spec designs come complete with a built-in Jacuzzi, as well as a Bang & Olufsen hi-fi system and wireless internet hook-ups.
FAO Craig Gunn credit: Matthew Hranek / Taschen.
'There are lots of gadgets,' says Ducancelle. 'That way, you can really play at being James Bond.'

It shouldn't come as any surprise that this unusual retro-modern home should belong to Pierre Cardin. The Italian-born French designer, now 86, is renowned for his avant-garde style and his space-age designs in the Sixties.
Geometric shapes and prints in strong monochromes are found throughout his work and the interior design of his bubble on the sea reflects this sensibility, with black-and-white optical fabrics featured throughout.

This cool Sixties aesthetic is picked up elsewhere with iconic pieces like Verner Panton's Fun table lamp, made from mother of pearl, and the curved lines of the television.
FAO Craig Gunn credit: Matthew Hranek / Taschen.
Other design touches pay homage to the nautical setting, with an anchor-like sculpture taking pride of place on the mapleveneer table, which, in typical Bond style, can be lowered into the floor to make space.

So does all this make you want to emulate Pierre's style? According to Ducancelle's website, aqua studios start at £36,500. They can be assembled in two days - Bond girl not included.
Taken from New Seaside Interiors edited by Angelika Taschen (Taschen, £24.99). To order a copy, £22.50 (p&p free), call 0845 155 0720 Source: dailymail.co.uk