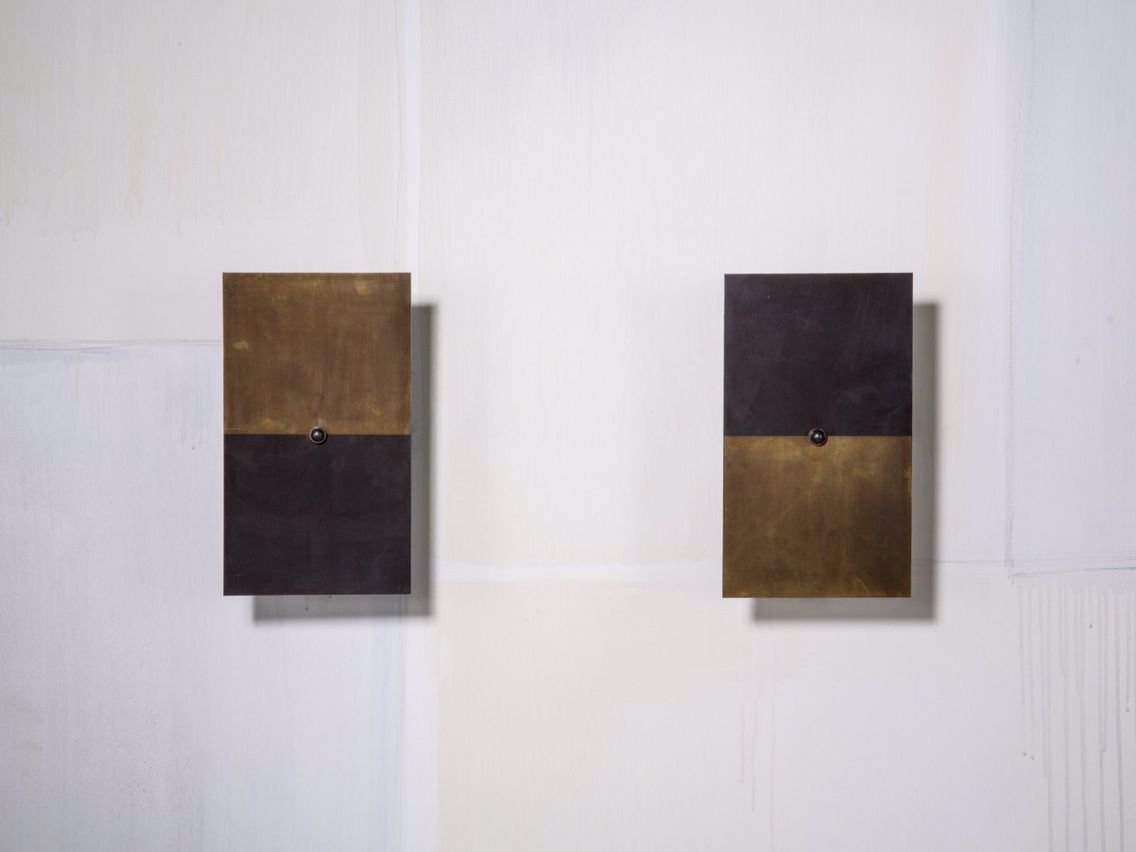 PIVOT SCONCE
DESIGNED TO SHOWCASE THE BEAUTY AND RANGE OF BRASS PATINAS, THIS SCONCE CAN BE HUNG HORIZONTALLY OR VERTICALLY, AND PIVOTS TO DIRECT A SOFT POOL OF LIGHT. AVAILABLE IN OUR SIGNATURE TWO-TONE, USING A PROCESS DEVELOPED IN OUR STUDIO TO ACHIEVE DUAL FINISHES ON A SINGLE PIECE OF BRASS.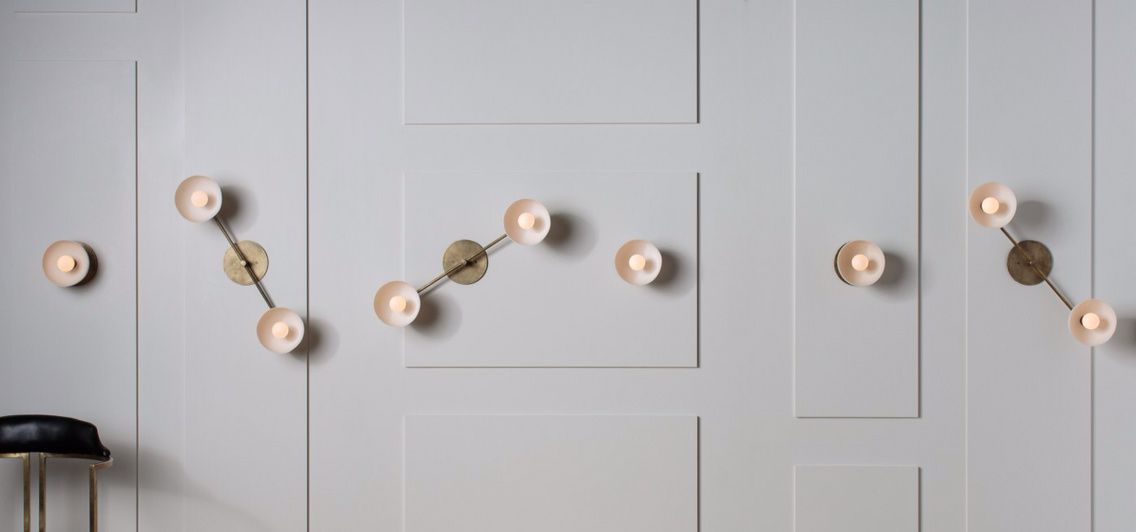 TRAPEZE
INSPIRED BY THE TENSION AND DYNAMICS OF THE CIRCUS ACT, THIS PENDANT IS A TRIANGLE FIXED IN SPACE. UNINTERRUPTED LINES SUSPEND GLOWING CIRCLES FROM THE CEILING CREATING SOFT LIGHT AND GRAPHIC APPEAL. AVAILABLE WITH EITHER BRASS OR HAND-CAST PORCELAIN BOWLS.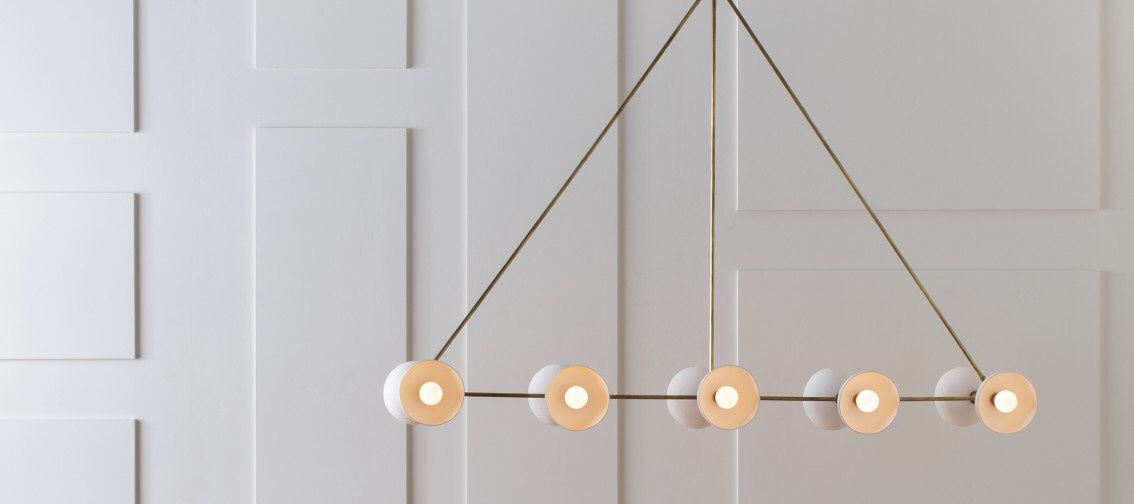 HORSEHAIR
A ROBUST STUDY OF MATERIAL THAT EVOKES THE GRACE AND STRENGTH OF ITS EQUINE CONTRIBUTOR. WEFTS OF HORSEHAIR ARE COMBINED WITH BRASS AND ETCHED GLASS, IMPLYING A STRUCTURAL, WEIGHT BEARING FUNCTION FOR THE COARSE HAIR.
AXON
SLUMPED GLASS SITS OVER A BRASS HEMISPHERE. THE SCALE OF THE SMALL LAMP LENDS ITSELF TO TABLETOP USE. THE LARGE AXON IS WEIGHTY AND OVERSIZED, CONCEIVED TO SIT CONFIDENTLY ON THE FLOOR. OPERATES VIA THREE-LEVEL TOUCH DIMMER.
CLOUD
GLASS ORBS ARE FROSTED BY HAND TO CREATE AN IRREGULAR TEXTURE REMINISCENT OF 19TH CENTURY GLASS FROSTING TECHNIQUES. THREE CENTRAL LIGHT SOURCES EMIT A SOFT GLOW THAT IS REFRACTED THROUGH THE SURROUNDING CLUSTER OF ORBS.
LARIAT
ETCHED GLASS TEARDROPS HANG FROM WOVEN BRASS MESH, AND CAN BE INTERWOVEN WITH SOLID BRASS "KNOT-CLAMPS" REMINISCENT OF FORMS FOUND IN JEWELRY. TAUT LINES ARE WEIGHTED BY ELONGATED ORBS, ADDRESSING AN INTERSECTION OF GEOMETRY AND GRAVITY.
SYNAPSE
INSPIRED BY THE MECHANICS OF NEURAL SYNAPSES, THIS PENDANT IS COMPOSED OF TWO HAND-MOLDED GLASS DOMES THAT REQUIRE A 4-PART FIRING PROCESS. A BRASS ORB FLOATS IN TRANSIT BETWEEN THE TWO HEMISPHERES.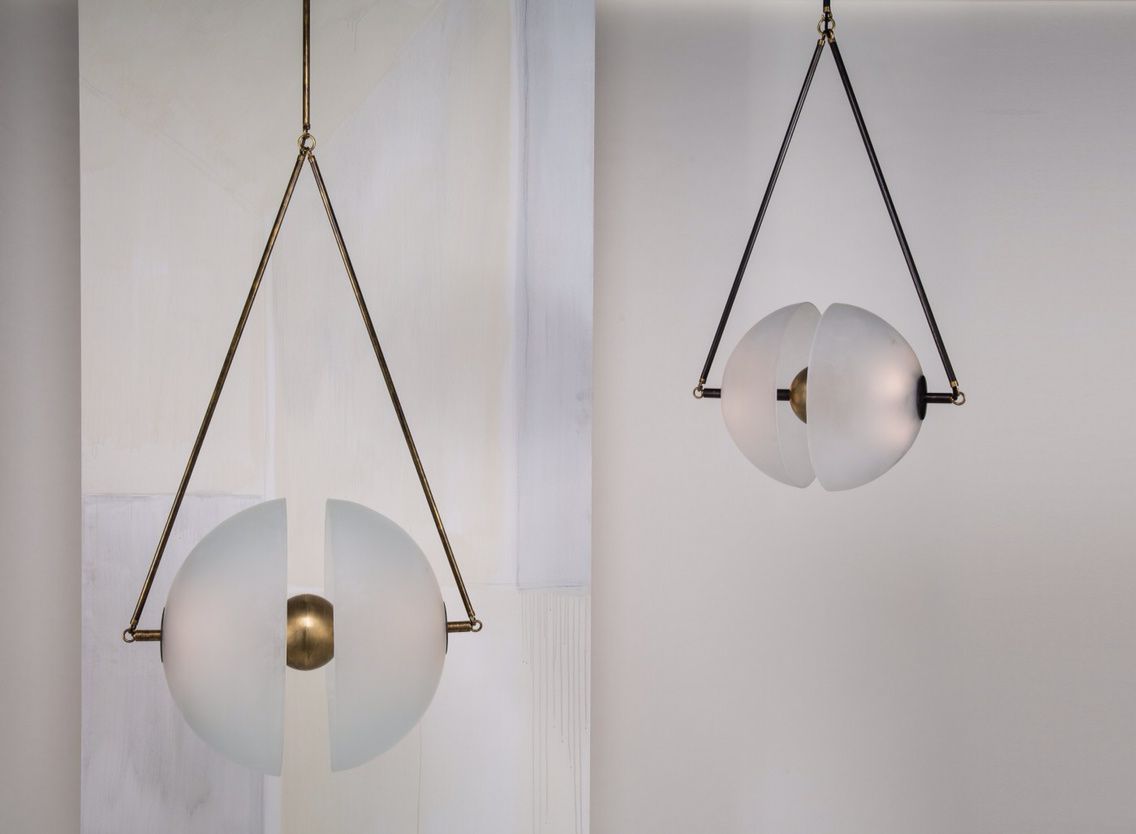 TRIAD & DYAD
DRAWING ON TRIGONOMETRIC PRINCIPLES, THESE FIXTURES ARE A STUDY IN REPEATING TRIANGULAR AND CONICAL SHAPES. SOLID BRASS, OR WITH HAND CAST PORCELAIN CONES THAT EMIT A DELICATE GLOW.
BOWL SCONCE
CREATED FROM WOODEN VESSELS CARVED BY THE TURKANA TRIBE OF NORTHERN KENYA, EACH SCONCE HAS ITS OWN UNIQUE MARKINGS AND PATINA.
ARROW
THE REPRESENTATION OF AN ARROW IN ITS SIMPLEST FORM: A LINE SEGMENT WITH A TRIANGLE AFFIXED TO ONE END. THE TRAJECTORY OF THE ARROW IS DETERMINED BY WEIGHTS THAT REMAIN HIDDEN WITHIN THE FIXTURE. BRASS WITH OPTIONAL HAND-WRAPPED CALF SKIN OR MATTE PYTHON DETAIL.
Apparatus is a collection of lighting fixtures created in New York City by designer Gabriel Hendifar and Jeremy Anderson.