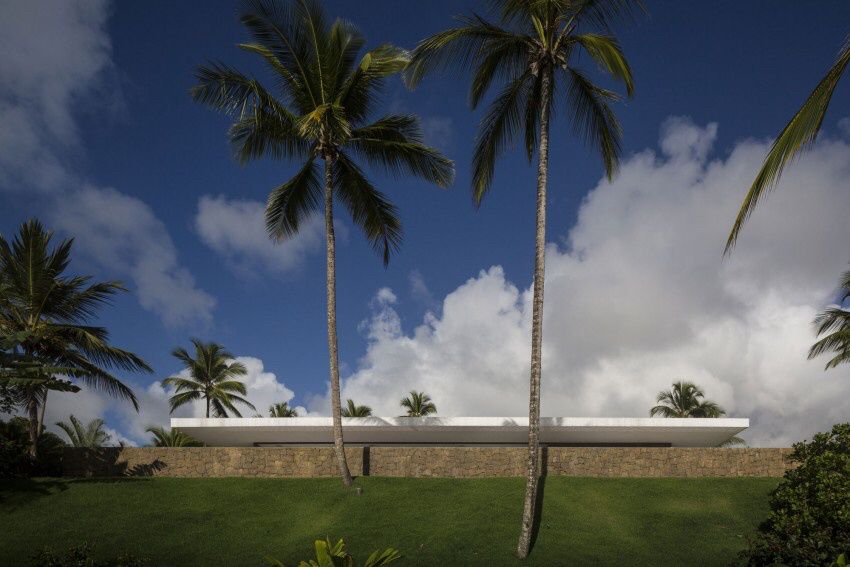 Txai House is a private residence located in Itacaré, Brazil.


It was designed by Studio MK27 in 2014, and covers an area of 6,889 square feet.
Txai House by Studio MK27:

"The Txai Housemerges elements of the vernacular colorful Bahian Houses with the precise lines of Brazilian Modern architecture. Located in front of a beautiful beach in the city of Itacaré – in the Brazilian northeast – the site of Txai House reaches 13 meters (42.65 feet) above the sea level. This topographical condition allowed for, even with the existing treetops, a beautiful view of the coast.
To avoid excessive verticalization and still accommodate the entire necessity program, the house rests on two levels without any pavement overlapping. This solution ended up creating a new artificial configuration for the plot, as a second nature, which recomposes the original topography, now with the house settled.

On the lower floor, we have the living room. With a large veranda, all of the window frames can be entirely recessed. The living room then becomes an open space, protected by a large flat pre-stressed slab. The kitchen is joined to this social area, facing the dining room and contained within a wooden volume that also holds a small utility area and a washroom.
In front of the veranda-living-room, there is an infinity pool and a solarium with chaise-longs. In the back, a patio with vegetation ends up allowing for cross-ventilation in the area. The structural system was modulated in spans of 9.70m by 6.30m (31.80ft by 20.67ft), in a rational domino system. On the roof of this first floor there is an open wooden deck with a wonderful view of the sea. On this second floor are also the bedrooms, located under the pitched roof in colorful wooden and stucco volumes.

There is no internal connection from the living room and the kitchen with the bedrooms. The trajectories therefore, are always done from the outside, with the garden as passage. The residents experience the climactic conditions while going from one to the other.
The bathrooms extend outside of the roof and are all opened to the outside, having their own individual gardens defined by walls, like patios. The doors in front of the rooms look out to a generous 2.5m-wide veranda where the hammocks rest on the recycled wood roof. The mashrabiya doors – a wooden latticed element, traditional in modern and colonial Brazilian architecture – shade the interior of the bedrooms, allowing the breeze to pass; and they can remain completely open for complete control of the interior light.
e materials used in the house are all local. Efforts were made to also have raw finishings that age well in the aggressive tropical coastal climate. In the case of the volumes, using a color chart inspired by the local houses, the architecture sought live and pure colors which, when applied on the wooden mashrabiya, contributes to the durability of the material in creating a thick layer of protection against the salt air.

The House Txai offers a radical experience of integration between the inside and out. It is a place to drink coconut water, swaying in the hammocks. The tropical atmosphere of Bahia impregnates all of the spaces and the contact with the garden is necessary in order to use the house, as it integrates the trajectories of quotidian life." Photos by: Fernando Guerra | FG+SG - Source: homedsgn.com