Source: Youtube Disney Parks
1955 Disneyland's Monorail Designer
Robert Henry Gurr (born October 25, 1931 in Los Angeles, California) is an American amusement ride designer and Imagineer. His most famous work was for Walt Disney's Disneyland Park, and its subsequent sister parks. Gurr is said to have designed most, if not all, of the ride vehicles of the Disneyland attractions, including Autopia, Haunted Mansion, the Disneyland Monorail, the Submarine Voyage, and the Matterhorn Bobsleds. He was named a Disney Legend in 2004. He also worked on the King Kong Encounter animatronic for Universal Studios Hollywood.
Gurr began his career with Disney designing the Autopia vehicles. He later gave himself the title of Director of Special Vehicle Development.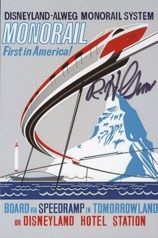 $30.00 Signed By Disney Legend Bob Gurr. Source: apepenpublishing.com
Ape Pen Publishing We meet all your publishing needs Ape Pen Publishing is best known for vintage Disneyland photography, videos of the Disneyland park construction, and interview videos with Disney Legends like: Disney Legend Bob Gurr, X Atencio, Wally Boag, Blaine Gibson, Bill Farmer,Eddie Carroll, and many others are on DVD.
http://www.apepenpublishing.com/Ape_Pen_Publishing/Monorail_,_Disneyland.html
Bob Gurr Design Just for Fun. he most thorough behind the scenes stories ever told about Themed Entertainment design at America's favorite destination resorts - Disneyland, Walt Disney World, Universal Studios Tour, Spectacular Las Vegas and more.