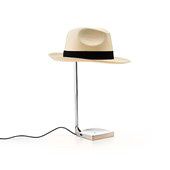 When Alec Guinness, James Stewart and Fred Astaire got home in the evening, with a sharp and elegant gesture they would throw their hat onto anything within reach. So why not a lamp? Philippe Starck
Throwing one's hat onto a stand is a seductive and slightly swankering masculine gesture from bygone times. It has an irreverent and retro charm reminiscent of a cinematographic image that is an inescapable part of our visual baggage. All this underlies the Chapo table lamp, a playful gesture that becomes a three-dimensional and theatrical object, a lamp whose style, character and shape can change depending on the hat that is placed on top of it.
Flos, legendary for nearly a century of superior Italian lighting craftsmanship, invites you to shop our contemporary and modern lighting collection. .