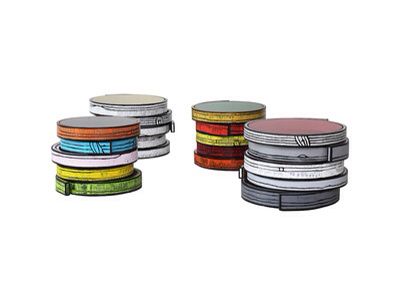 Bent Wood Table, 2013 Sebastian Wrong and Richard WoodsEdition of 8, Ash, printed in acrylic paint and sealed with a matt lacquer.
Inspired by the process of steam bending wood, the beach rings, produced in Udine in northern Italy, where generations of skilled craftsmen still use the crude and basic processes of timber manipulation using steam and compression forcing the raw material to curl, making a very unnatural 'animated' form.
"We wanted to use these curled wooden blanks – normally never seen outside the workshop environment – in their premachined state to remain as they are and serve as raw structures for stacking and printing."
'We stacked the rings, like used tyres from a car breakers yard, and Richard printed his wood grain pattern onto the surface '.
Edition of tables in two sizesLarge / H 54cm , diameter 73cmSmall / H 51cm , diameter 65cmLarge and small have four colour patterns. Grey with pink glass, White with yellow glass, Orange and red with green glass and multi coloured with grey glass. Each design is an edition of 8 tables plus 2 artists proofs.
Products, Furniture, Print Editions ← The Wrong Shop
The Wrong Shop is an innovative new platform established by designer Sebastian Wrong that allows the world's leading designers to explore their creativity with experimental pieces that require unorthodox methods of production.