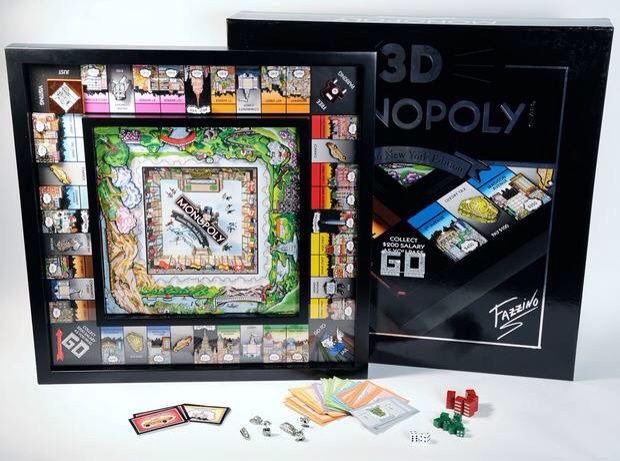 Special Limited Edition of 2000
- Oversized Monopoly Edition featuring custom, New York themed, 3D artwork by world renowned pop culture artist Charles Fazzino.
- Beautiful 2" deep wood cabinet with tempered glass top 3-Dimensional artwork adorned with over 170 crystals and foil accents
- Six custom Fazzino-designed New York City-themed pewter MONOPOLY® Tokens
- Custom Fazzino-designed Money and Title Deed,
- Chance, and Community Chest Cards
- Custom Fazzino-designed Wood houses and Hotels
- Wood Banker's Tray
- Each set is hand signed and numbered by the artist.
3D Monopoly - Fazzino New York Edition
Charles Fazzino is proud to partner with premiere custom game maker, Winning Solutions, to create the world's first three-dimensional collectors version MONOPOLY Game! Marrying the world-renowned artistry of Charles Fazzino, and the popularity and gamesmanship of MONOPOLY, "3D MONOPOLY®: The Fazzino New York Edition" is a one-of-a-kind, hand-signed and numbered limited edition collector's item.
http://www.fazzino.com/art-blog/3d-monopoly-collectors-game/
3D Monopoly New York Edition by Charles Fazzino
This truly unique masterpiece marries the world-renowned artistry of Charles Fazzino with the iconic game of MONOPOLY®. The MONOPOLY® game board is oversized compared to the classic version and features custom, New York-themed, 3D artwork
http://www.winningsolution.com/artisan-series/fazzino-monopoly/