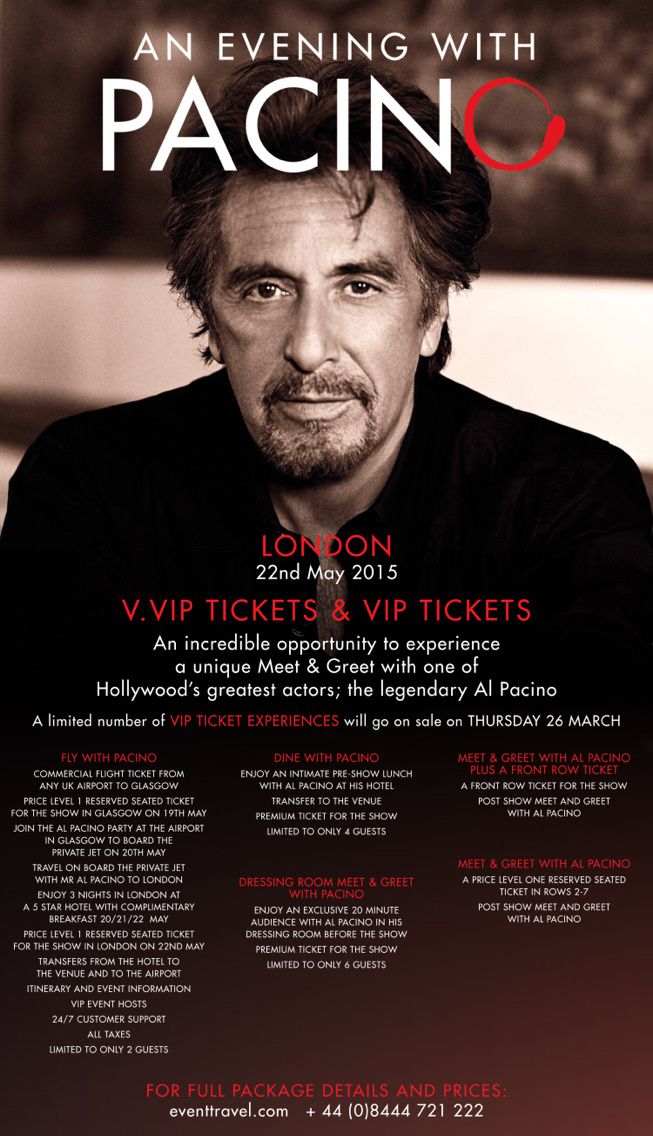 AN EVENING WITH PACINO marks a welcome return to London following a sold out night at the Palladium in 2013, and will celebrate one of the most acclaimed careers in acting history in a theatre setting, with the actor himself, as he shares his passion for acting and directing. The evening will explore his time Off-Broadway in the '60s right up to the present day, and will include some never heard before stories and some never before seen clips, as well as the rare chance to speak directly with Pacino.
Flying with Pacino - Glasgow & London - 19th -23th May
- Commercial flight ticket from any UK airport to Glasgow.
- Price Level 1 reserved seated ticket for the show in Glasgow on the 19th May.
- Join Al Pacino and entourage at the airport in Glasgow after the show to board the private jet (19th or 20th May Flight Times TBC).
Travel on board the private jet that night with Mr Al Pacino to London.
- Enjoy 3 nights in London at a 5 Star Hotel with complimentary breakfast 20th/21st/22nd May.
- Price Level 1 reserved seated ticket for the show in London on the 22nd May.
- Transfers included.
- Itinerary and Event Information.
- VIP Event Hosts.
- 24/7 Customer Support.
- All Taxes.
All prices are per person including VAT/Taxes. Please note, a 2% charge will be made if paying by credit card. NB: Reserved seats are sold based on being seated together, unless otherwise stated at time of booking.
Basic price: GBP 24,500.00 Per person.